UPCOMING EVENTS
NAFSN promotes its own events as well as those hosted by our partner organizations (denoted by a *). We welcome the opportunity to create and promote events with new partner organizations that share our values and vision to build a more inclusive, equitable, and informed workforce for local and regional food systems development.
CARAT Information Session
The North American Food Systems Network has released CARAT as a free, open-access resource.
The Community & Agriculture Resilience Audit Tool (CARAT) helps community stakeholders assess how they currently utilize the assets of their local food system to achieve a substantial level of community resilience.
CARAT measures the resources within a food system via 101 indicators to determine possible next steps to increase community resiliency and food sovereignty.

These indicators revolve around seven core themes that address the complex nature of community resiliency. Each requires the attention and participation of a diverse team of community stakeholders who work together to provide a holistic perspective of how food systems play an integral role in their community's resilience.

To learn more, please consider attending one of our CARAT Informational Sessions.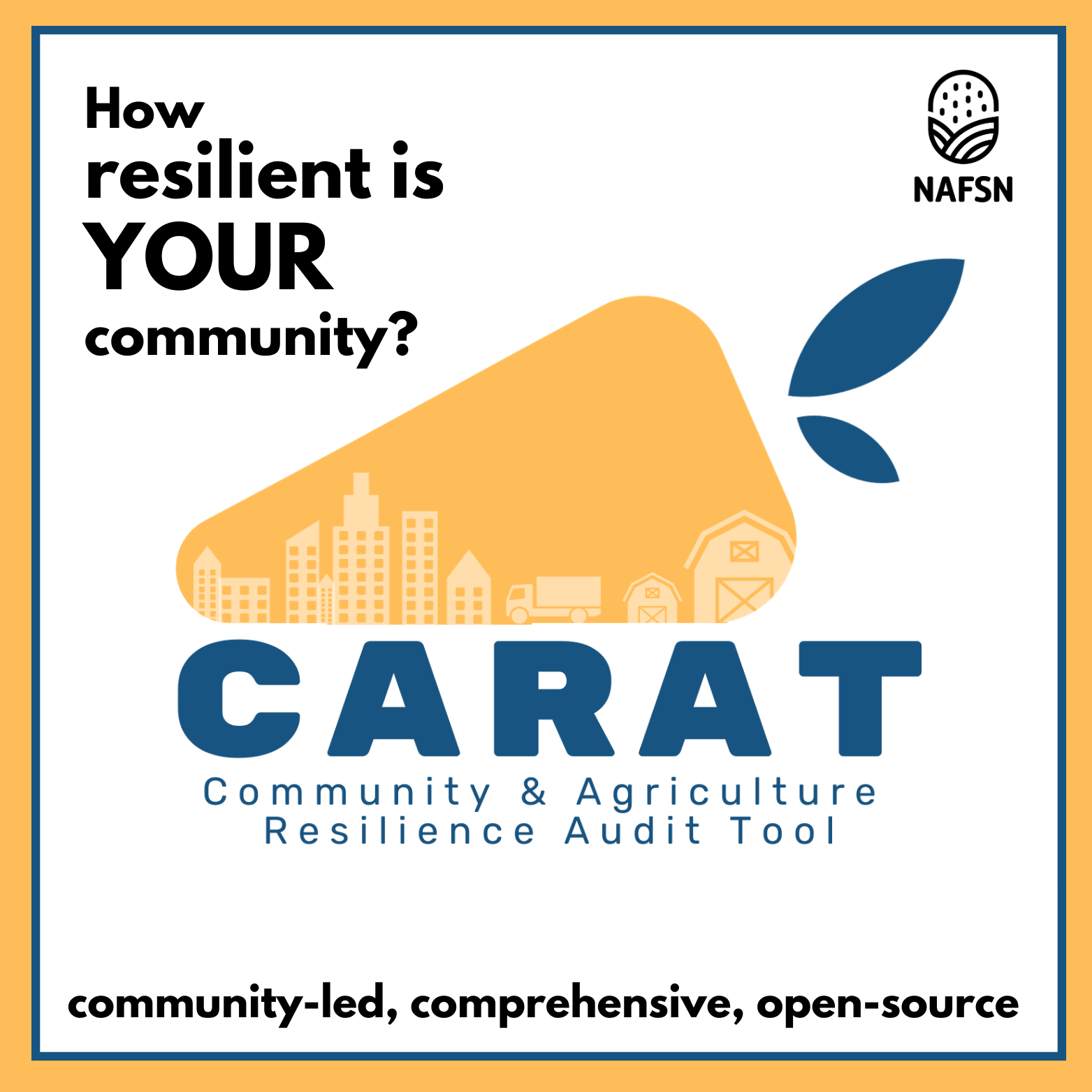 UPCOMING DATES:
OPEN TO THE PUBLIC
NAFSN Book Club
As we launch NAFSN'S new book club we are honored to start with "Feeding Each Other: Shaping Change in Food Systems through Relationship" by change-making authors Nicole Civita and Michelle Auerbach.
Host Lin Diaz Maceo of NAFSN will bring this book club to life in three parts:
Sat Dec 2, 12p-2pm ET - Come meet authors Nicole and Michelle as they guide us through the ethics of "agrelational" thinking, doing and being as proffered in "Feeding Each Other."
Dec-Jan - Make time to read the book, cuddled up at home this winter.
Sat, Jan 27, 12pm-1:30pm ET - Attend the book club to discuss your reading of "Feeding Each Others" and the powerful ideas within.
Purchase the book here. What a great gift for yourself and for your colleagues!
Many thanks to The Foodshed Network for joining us in the cross-promotion of this event.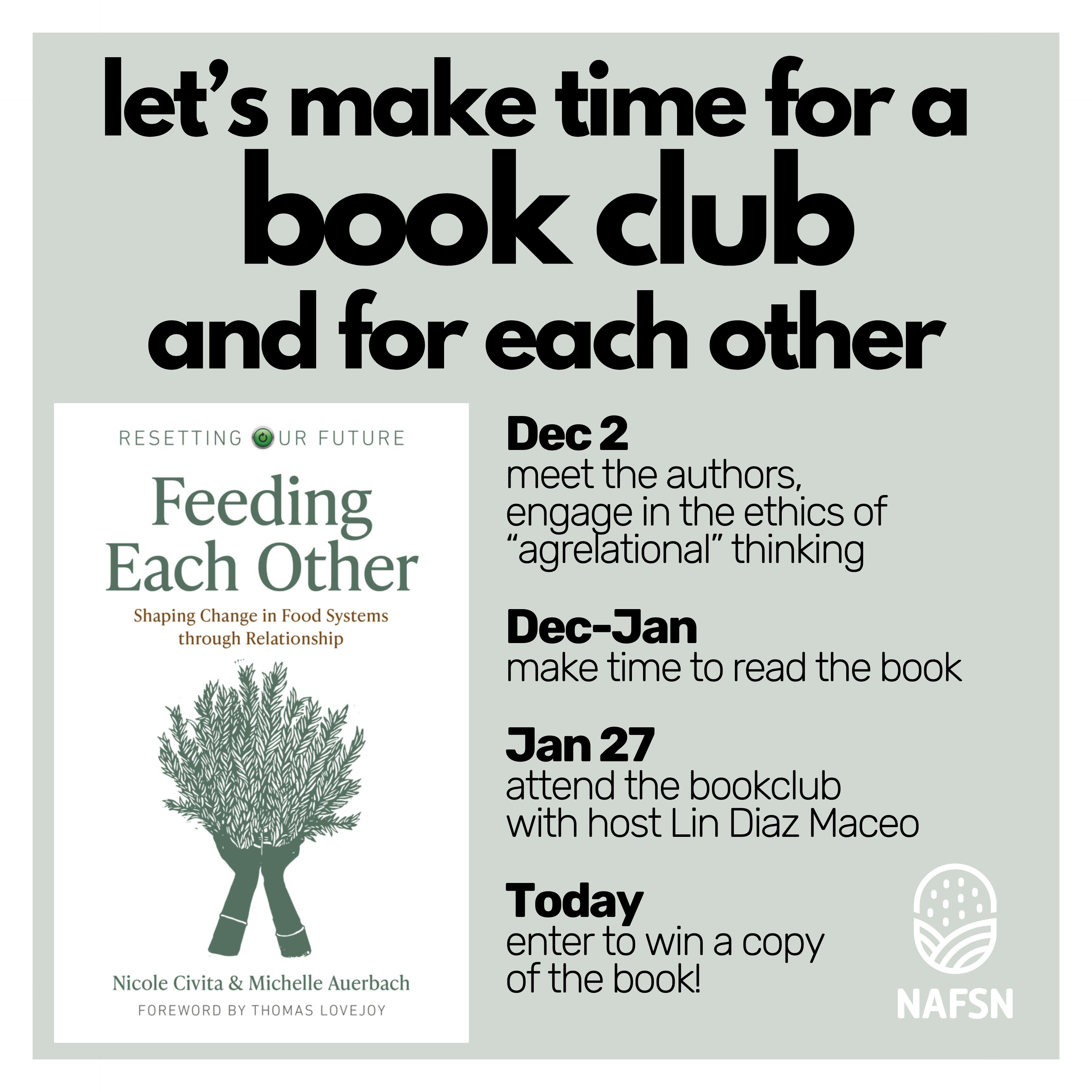 ACRE Community of Practice Gathering
AgriCluster Resilience and Expansion - or ACRE for short - is a professionally-facilitated strategic planning process to help groups of farmers, especially those in value-chains, work together and compete more effectively in an increasingly complex world.
This event will gather together those who have completed certification in ACRE Facilitator Training as well as those currently enrolled.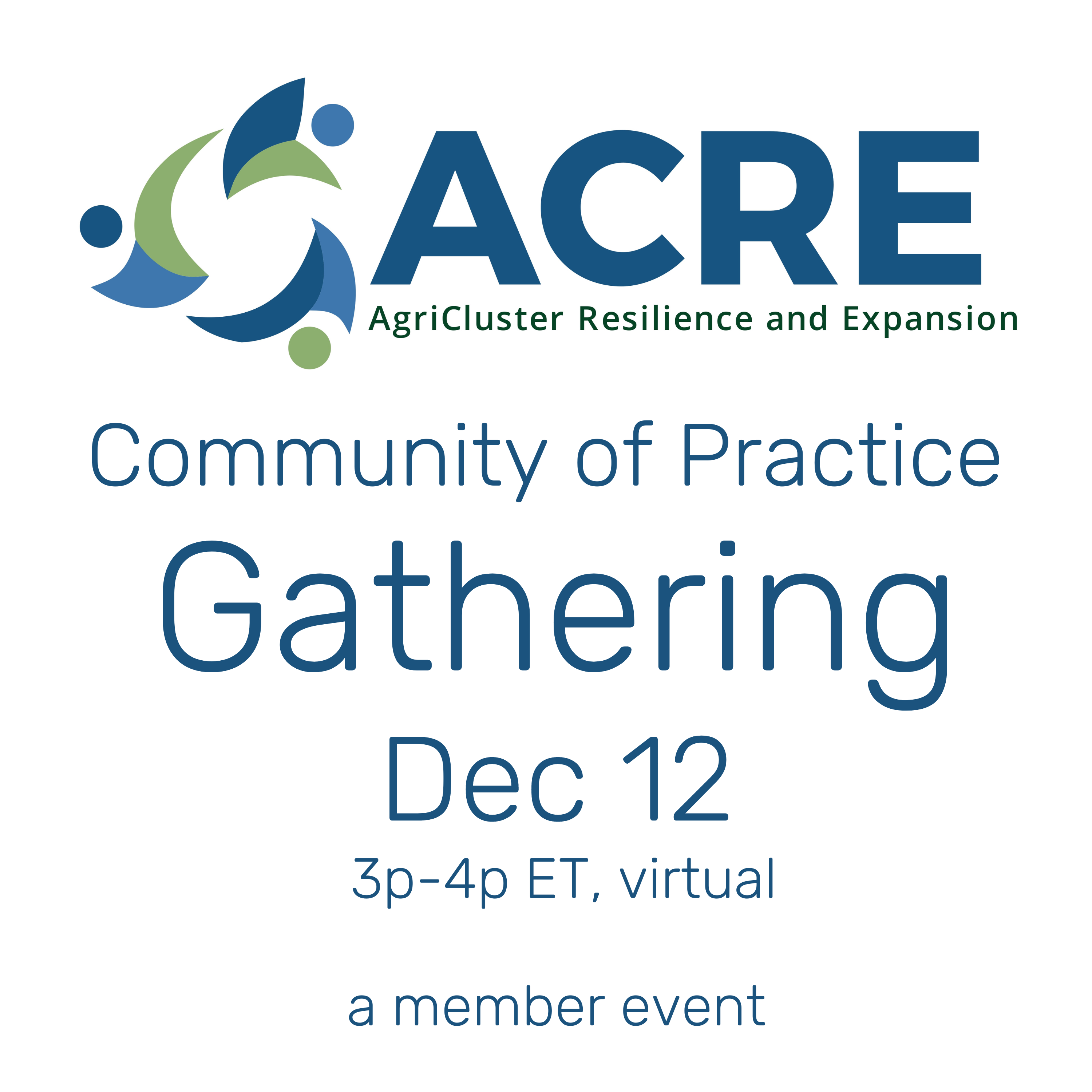 THIS EVENT IS QUARTERLY
Register here:
OPEN TO MEMBERS OF THE ACRE COMMUNITY OF PRACTICE ONLY
Seasonal Sips & Job Tips
Once a month, we'll get on the Zoom for an informal conversation with emerging and transitional professionals looking for a job in food systems.

Together we'll share insights about job leads and tips for networking.

Each virtual event will also feature a seasonally-inspired beverage, recipe included.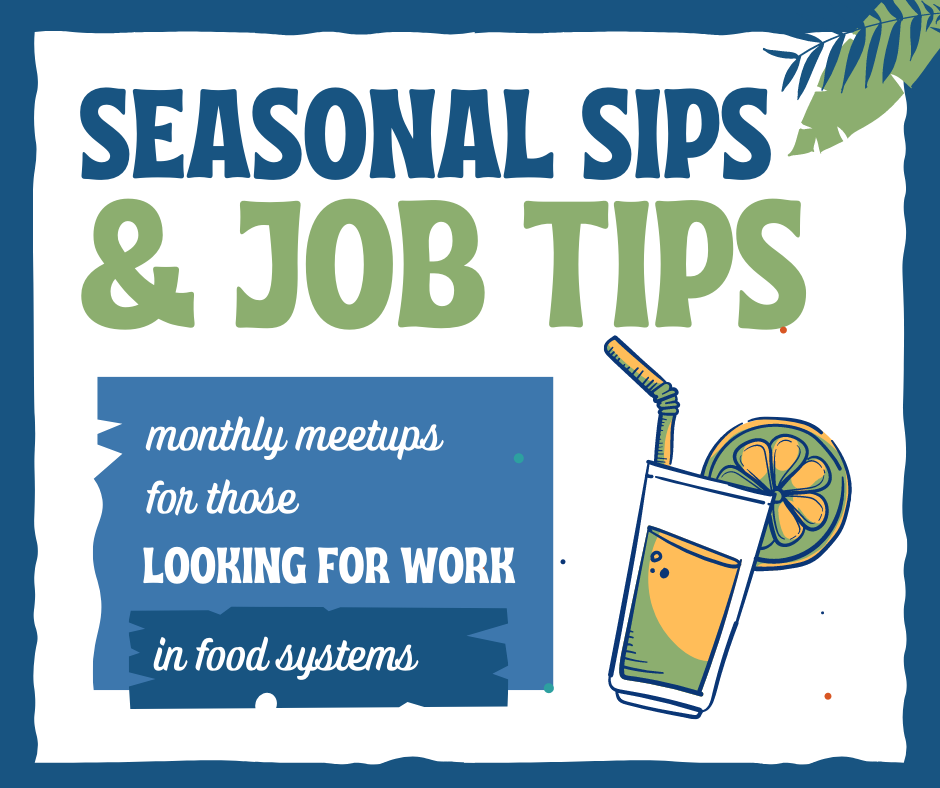 THIS SERIES OCCURS MONTHLY
UPCOMING DATES:

OPEN TO NAFSN MEMBERS
OTHER EVENTS WE HOSTED THIS YEAR
Finding Your Future In Food Systems
Are you an emerging food systems professional? Are you in career transition, seeking a job in community food work? This webinar series is for you!
Finding Your Future in Food Systems provides
participants with connections and insights to help them identify next steps for their careers. The series features speakers from job-creating organizations, agencies, and businesses, some working locally in their communities, others with national and international scope. Produced by college students for college students and other emerging professionals.
The Fall 2023 season of this series is finished; find recordings here. We are now planning more episodes for Spring 2024!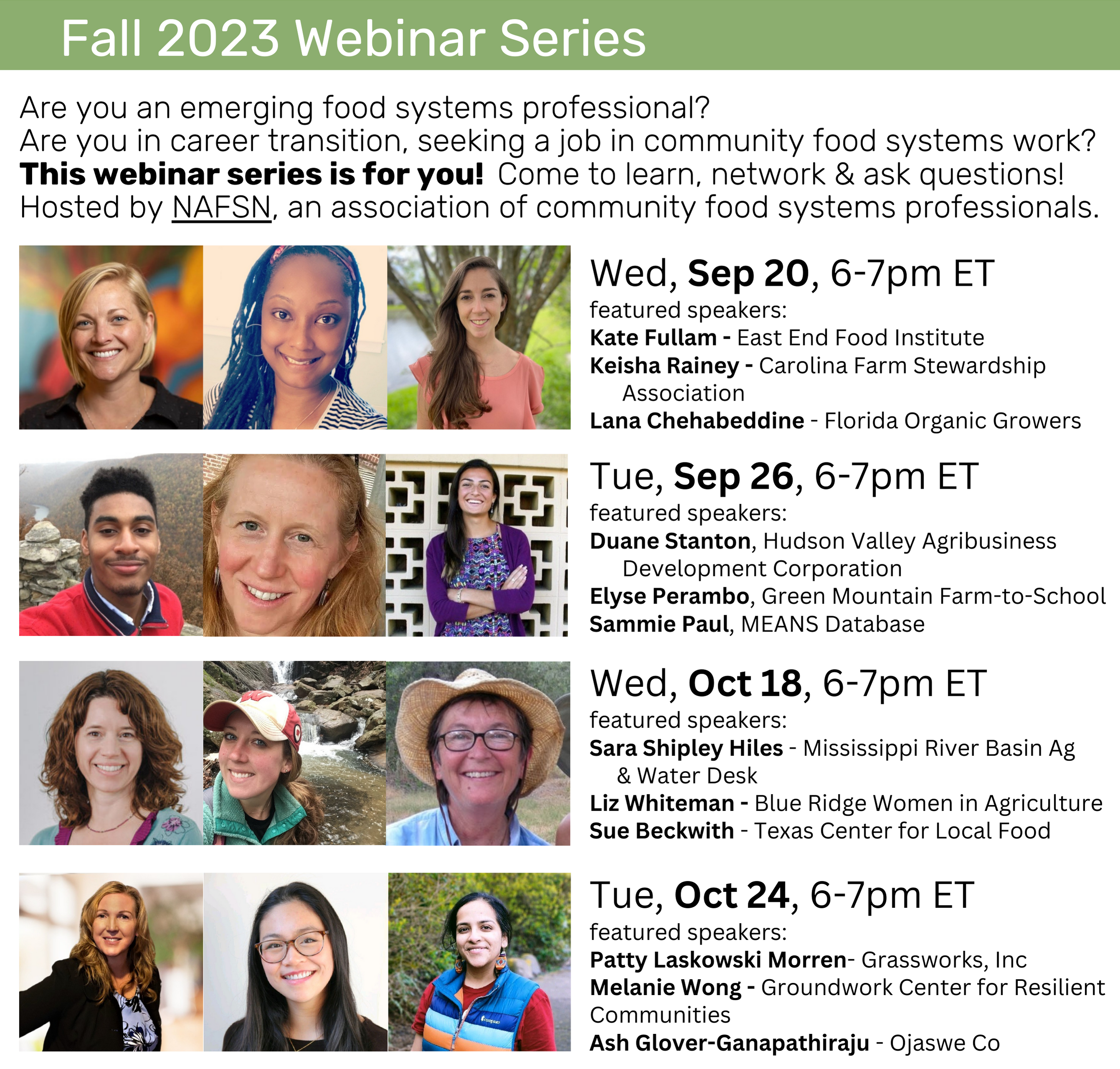 THIS SERIES OCCURS EACH SPRING & FALL
OPEN TO PUBLIC
UPCOMING DATES:
OPEN TO THE PUBLIC
Wicked Problems in Food Systems Workshop Series

Any meaningful progress toward the UN Sustainable Development Goals is going to require transformative changes in the food system while promoting human and planetary well-being (van Zanten et al., 2023). This will include changes across the food system — in the production, processing, distribution, retailing, consumption, and waste management of food. Moreover, achieving circularity in local and regional food systems will be critical to averting current and future climate-driven social and ecological disasters.
JAFSCD has drafted a call for papers entitled Community-Based Circular Food Systems: Meeting current and future food needs through local and regional food systems development, which can be seen HERE.

Prior to the formal announcement of the call JAFSD is conducting this workshop with circularity experts.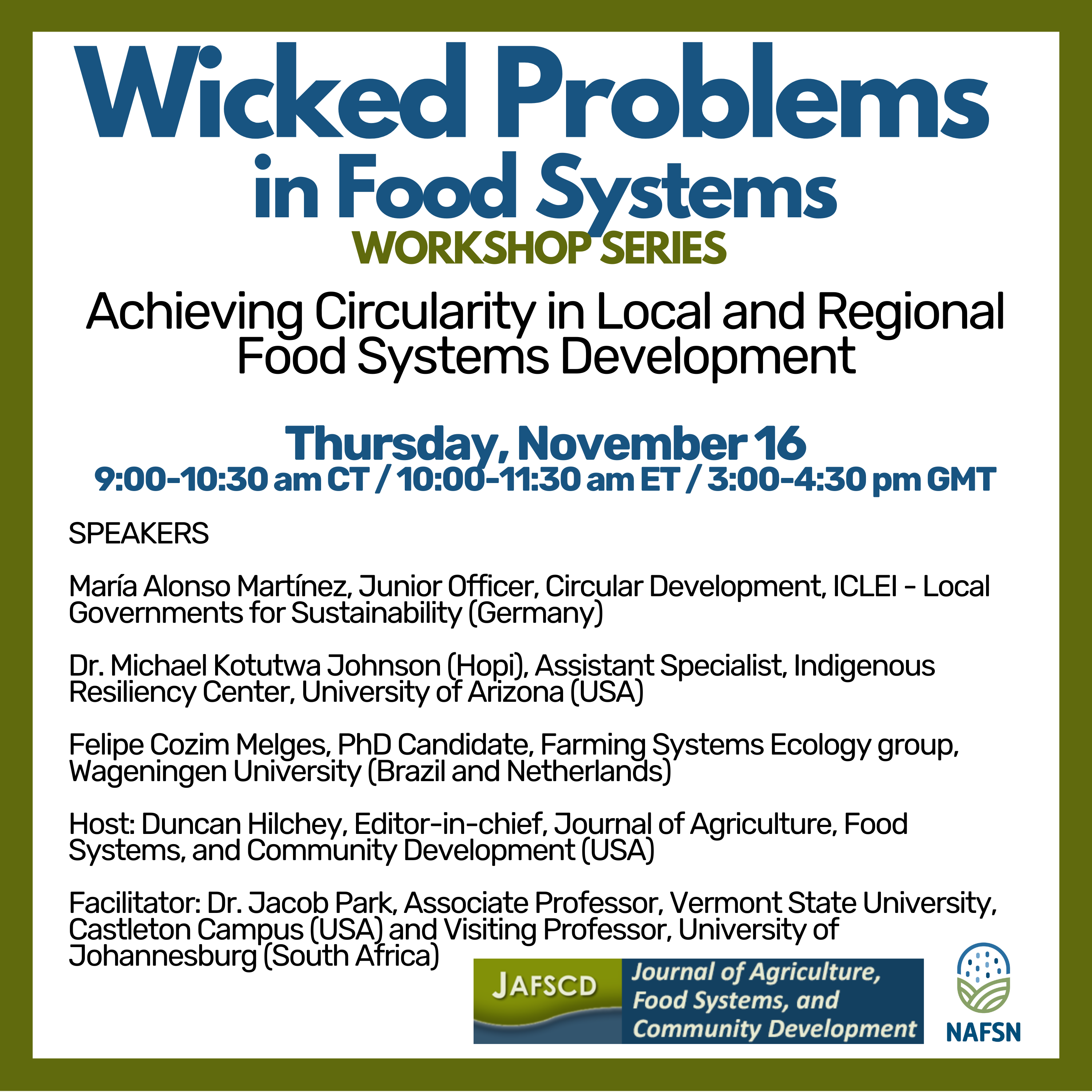 REGISTER:
OPEN TO THE PUBLIC
CO-SPONSORED BY JAFSCD AND NAFSN
Community Food Systems Consultants Forum
We are building a collaborative network of Community Food Systems Consultants. In support of this network, NAFSN hosts a quarterly Forum featuring experts with insights for consultants working with community-based food & ag groups.
Check in with us as this evolves!
As a service to this network, we also maintain a list of Requests for Proposals (RFPs) for paid food systems development work throughout North America.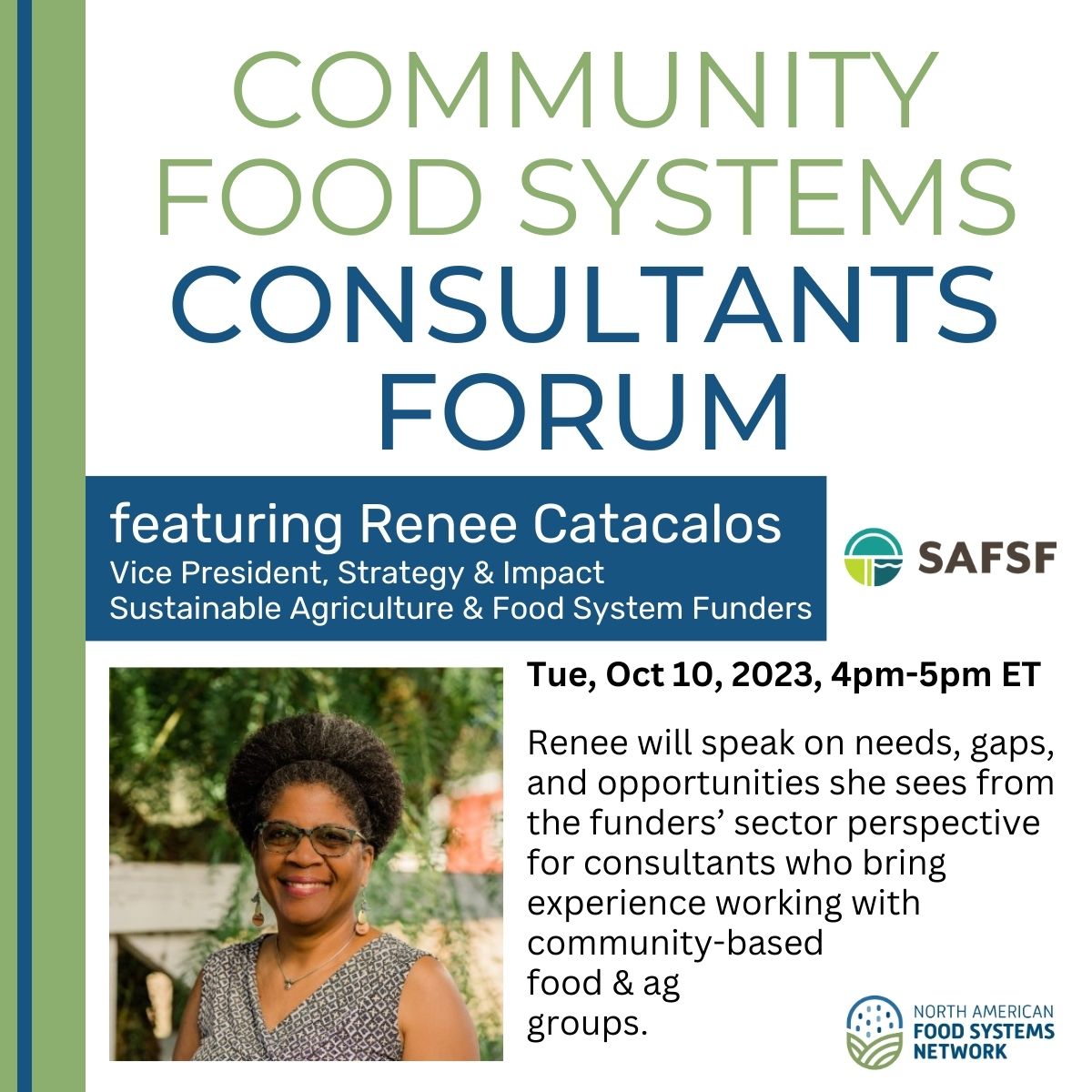 THIS EVENT IS QUARTERLY
Register here:
OPEN TO MEMBERS OF NAFSN'S NETWORK OF COMMUNITY FOOD SYSTEMS CONSULTANTS
MEET NAFSN AT THESE EVENTS IN 2023

Look for NAFSN's booth, presentation, or other meet-up at these partner events this year!
National Agriculture Marketing Summit*
IN WASHINGTON DC
The AgSummit provides a unique networking opportunity for agricultural marketing practitioners to form new partnerships and learn new business strategies that can improve the performance of their farms and businesses.

Come meet members of the NAFSN Leadership Circle at our exhibitor booth on Nov 13.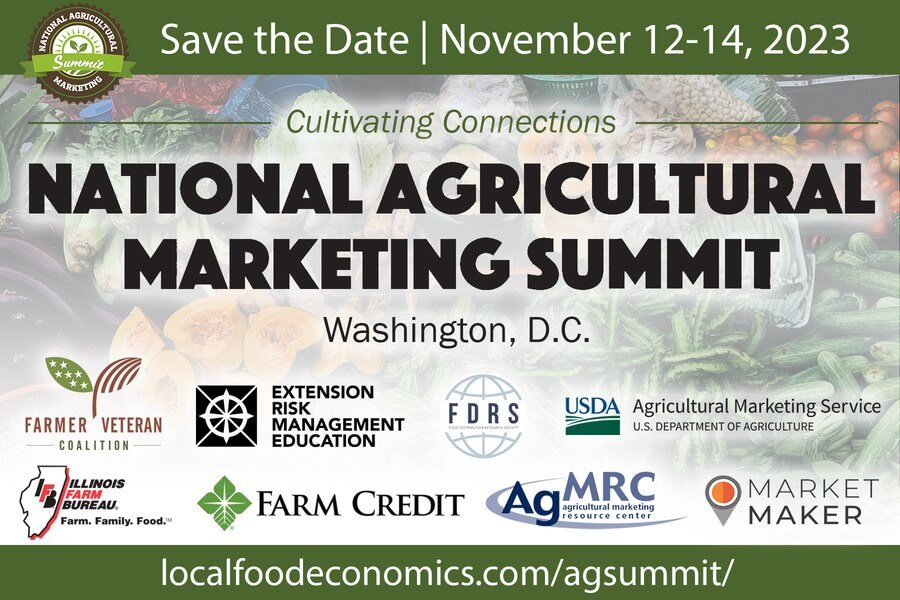 *PARTNER EVENT
NOV 12-14, 2023

NOFA-NJ's Winter Conference*
HOSTED AT RUTGERS UNIVERSITY
The Northeast Organic Farming Association (NOFA-NJ) has announced its 33rd Annual Winter Conference, held at Rutgers University in New Brunswick on Sat, Jan 28, 2023.
To kick off the New Year, a 50% discount is available for NAFSN members who register. Email Kim Hines to request the discount code.
The all-day event features dozens of workshops for professional development, including NAFSN's presentation of "Finding Your Future in Food Systems."
Devin Cornia, the Executive Director of NOFA-NJ, is also a member of NAFSN's Leadership Circle for 2023. We are honored to promote the work of this national partner.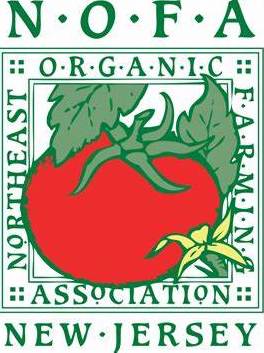 *PARTNER EVENT
JAN 28, 2023
This event has already occured.
Chicago Food Justice Summit*
THIS 18TH ANNUAL EVENT IS HOSTED BY THE CHICAGO FOOD POLICY ACTION COUNCIL
The Chicago Food Policy Council (CFPAC) and its summit planning team celebrate 18 years of leveraging collective power to policy. The summit will be held Feb 8-9 virtually, and Feb 10 in-person at UIC Student Center East.
NAFSN's Leadership Co-Chairs Natalie Cruz and Kim Hines are honored to be speaking virtually on "Finding Your Future in Food Systems" on Wed Feb 8 at 5:30pm CT.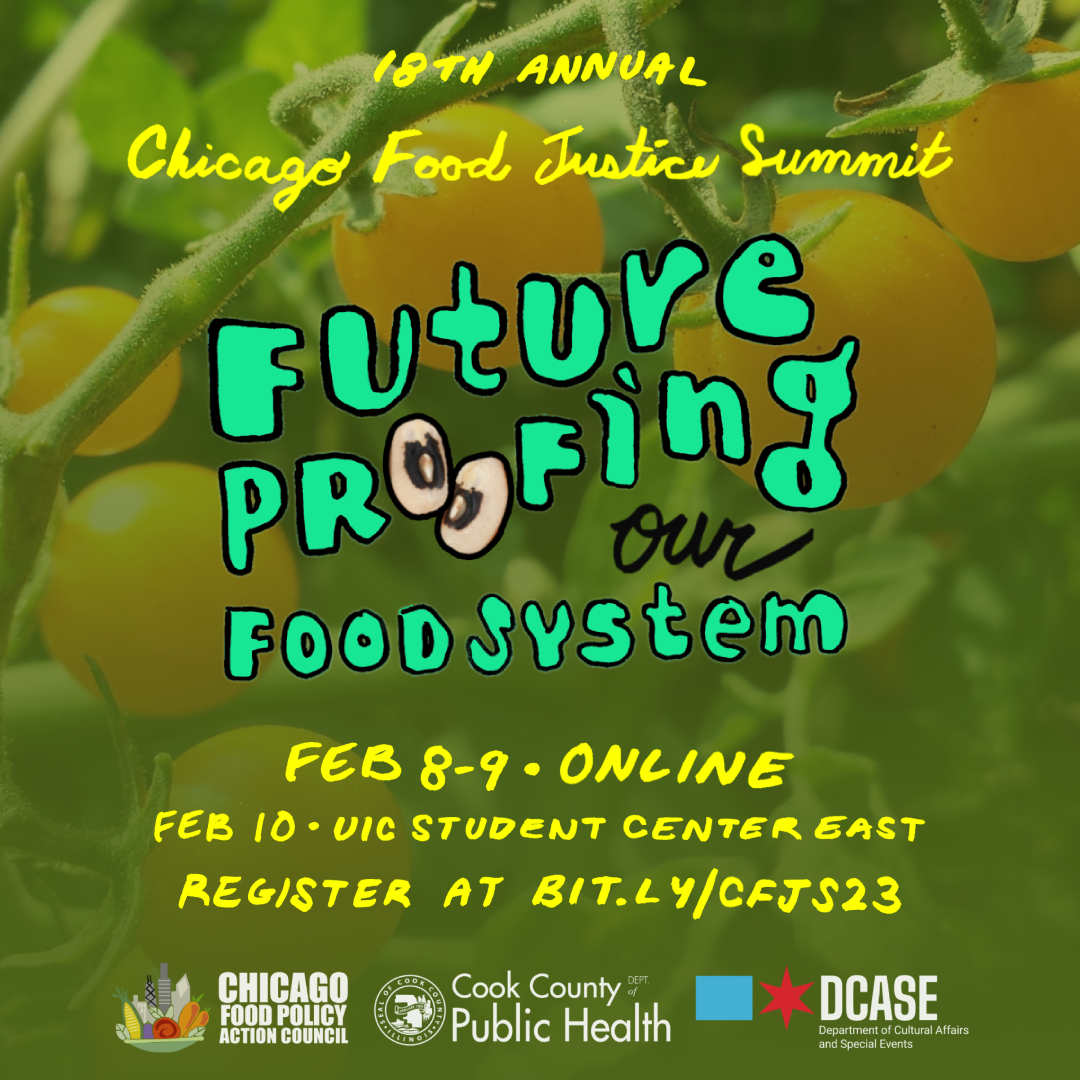 *PARTNER EVENT
FEB 8-10, 2023
This event has already occured.