VOICES FROM THE GRASSROOTS SERIES: COVID-19
by Katie S. Martin | published November 13 2020
"At the beginning of COVID-19, nearly one out of five (19%) of Foodshare's partner programs, including food pantries, meal programs, and school programs, decided to close due to safety concerns or lack of volunteers."
The Authors:
Katie Martin, Ph.D. is the Executive Director of Foodshare's Institute for Hunger Research & Solutions.
Brittney Cavaliere, MPH, is the Program Coordinator for Foodshare's Institute for Hunger Research & Solutions.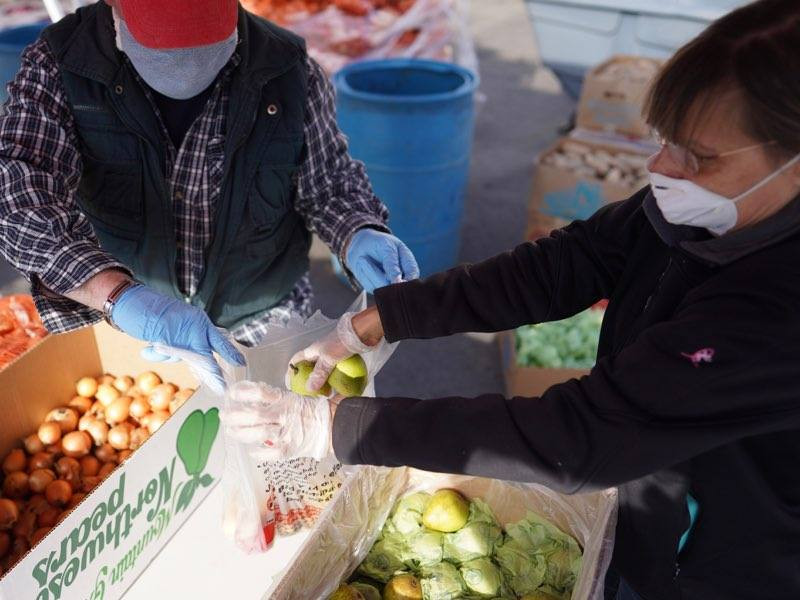 When the COVID-19 crisis hit in mid-March, it exposed several weaknesses within the charitable food system of food banks and food pantries. Reductions in volunteers, donated food, and agencies available to provide food coincided with dramatic increases in numbers of people needing free food to make ends meet. This article explores how Foodshare, the regional food bank of Greater Hartford, Connecticut and its network of food pantries have responded to the need, and highlights opportunities for reinventing the charitable food system to be more holistic and resilient moving forward.
Over one-third (38%) of volunteers in the charitable food system are older adults, a high-risk group for COVID-19.(1) Feeding America, the nation's largest hunger relief organization, found that food banks across its network experienced a nearly 60% decrease in the volunteer workforce due to safety concerns from COVID-19.(2) Food banks also experienced significant decreases in food donations from manufacturers and grocery stores due to increased consumer demand and challenges in the supply chain.(3) At the beginning of COVID-19, nearly one out of five (19%) of Foodshare's partner programs, including food pantries, meal programs, and school programs, decided to close due to safety concerns or lack of volunteers.
Foodshare conducted a brief survey with its network of 201 food pantry and meal programs in May 2020 to understand the impact of the COVID-19 crisis and to reveal gaps in services. Questions asked about changes in operations, people served, and food supplies, and offered open-ended questions to capture qualitative data. A total of 158 agencies responded, a 79% response rate. A pantry director commented that they had "lost many volunteers because they are over 60." Another commented, "All volunteers over the age of 60 have been asked to stay home."
Agencies described multiple challenges with getting adequate food, both in terms of quantity and quality. As supermarkets and wholesale stores faced product shortages and increased demand, food pantries received fewer donations through Foodshare's retail rescue program. Over half (57%) of programs experienced a decrease in food donations from retail stores. In comparing the six weeks prior to the pandemic to the six weeks immediately after, overall retail rescue donations were down 12%, with produce donations decreasing by 21% and meat donations decreasing by 67%. When asked what they are doing differently due to COVID-19, one director said "I would like to get more dairy and fresh vegetables but low on refrigeration space and volunteers."
Part of the early emergency response to the growing need for free food in the city of Hartford was to identify food pantry locations and their hours of operation to provide accurate information to those seeking assistance and to determine the capacity of Foodshare's network. While there appeared to be a sufficient number of programs in Hartford to serve those in need, COVID-19 exposed that many agencies are open only a few hours each month. These smaller programs create gaps in capacity Foodshare had not fully realized before the pandemic. Foodshare, the Mayor's office and other community groups are discussing how coordination between agencies and consolidation of some programs would improve food access for city residents.
New Normal
The COVID-19 crisis may have exposed weaknesses in the charitable food system, but it also has highlighted its resilience. New volunteers stepped in to help those in their community, including people newly unemployed, those working from home with flexible schedules, and college students unexpectedly now at home. Food supplies stabilized and new government commodity foods became available.
Pantry coordinators have become creative, learning how to serve more people with fewer or new volunteers, while maintaining social distance. Drive-through distribution sites have become common, at which volunteers pre-package bundles of food, and clients pick up food without entering the building. Due to safety precautions, most programs have discontinued client choice where pantry guests can select their own food. One director said "There is no longer client choice. All families get the same quantity and type of food each week via our drive-thru parking lot." However, some pantries, typically those serving a smaller number of guests, have found ways to continue offering choice. One director said "We have maintained client choice at our pantry by doing a take-out style menu that guests fill out. While we shop they wait in their cars. It goes smoothly with guests and volunteers both happy."

Looking Ahead
Because of the economic impact of COVID-19, many people are seeking food assistance for the first time. Now is the perfect time to reduce the potential stigma of seeking food assistance by incorporating customer service and hospitality into our food programs, and ensuring that locations and hours of operation are convenient for guests. While client choice has largely been replaced by pre-bagged food due to health concerns, as we look to the future, this is an opportune time to re-introduce choice or design pantries to offer choice. This would allow guests to select their food with dignity and reduce food waste. Food banks can serve a leadership role by offering training around customer service and client choice.
Due to limited food supplies overall, the initial emergency response of most food banks focused on securing enough food without focusing on the nutritional quality of the food. As food supplies have stabilized, and the pandemic continues, it is important to consider the nutritional quality of the food provided to help reduce the risk of health disparities. Food banks can take the first step in this by exploring nutrition ranking of their inventory using the Healthy Eating Research nutrition guidelines for the charitable food system.4
COVID-19 exposed the inability of some smaller pantries to serve the needs of the community. The survey had a relatively high response rate, but the 21% of non-responders are likely lower-capacity agencies that may not be able to adequately respond to the needs of community members. Food banks can use this information to examine gaps in their service area, to identify pantries with no succession plan, and build the capacity of pantries to be open more days of the week and with convenient hours. Food pantries can engage new volunteers and staff who may have fresh ideas for providing food. Because food banks and pantries have already shifted their status quo to respond to COVID-19, this may be an ideal time to reinvent the way we provide charitable food and to come out of the pandemic stronger than before. Food banks can consider consolidating some smaller pantries to create economies of scale by merging resources of food, volunteers, space, and talent to improve food access for community members. This will help create more holistic pantries that will be resilient to challenging times.
References
Weinfield N, Mills G, Borger C, Gearing M, Macaluso T, Montaquila J, Zedlewski S. Hunger in America 2014. Prepared by Westat and Urban Institute for Feeding America. https://www.feedingamerica.org/research/hunger-in-america
Feeding America. (2020, April 1). Feeding America food bank network projects $1.4 billion shortfall due to the COVID-19 crisis [Press release]. https://www.feedingamerica.org/about-us/press-room/feeding-america-food-bank-network-projects-14-billion-shortfall-due-covid-19.
Reiley, L. (2020, March 16). Food banks are seeing volunteers disappear and supplies evaporate as coronavirus fears mount. The Washington Post. https://www.washingtonpost.com/business/2020/03/16/food-banks-are-seeing-volunteers-disappear-food-supply-evaporate-coronavirus-fears-mount/
Healthy Eating Research. (2020). Healthy Eating Research: Nutrition guidelines for the charitable food system. https://healthyeatingresearch.org/wp-content/uploads/2020/02/her-food-bank_FINAL.pdf
Photo from Foodshare.org